About us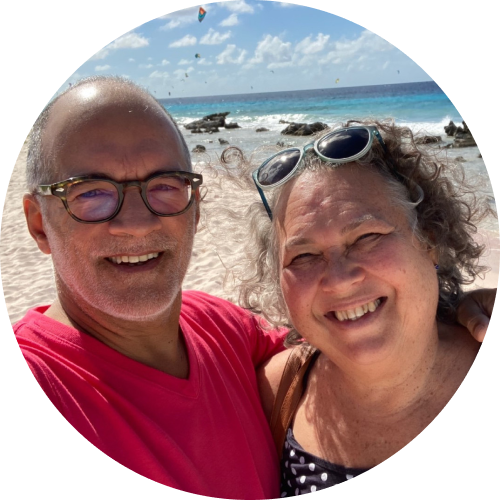 Once you arrive at Amigunan, you will be welcomed by your hosts, Eldon and Hilly de Jongh. Although our family name sounds Dutch, we both are born and raised on Curaçao. We are the owners of the property and have lived here for quite some time. When then kids left the nest, we decided to open our home for guests. Since 2014 many guests have stayed at Amigunan. We also live on the resort in our own apartment.
Hilly takes pride in creating and maintaining the green oasis. You will often find her between the plants, under the trees or kneeling in the soil. Hilly manages the housekeeping and finance.
Eldon is responsible for the communication, reservation and maintenance. He also likes to entertain the guests and answer all possible questions they might have.
We are looking forward to welcoming you as soon as you are ready to enjoy paradise in Curaçao.
We wish you a relaxing and cheerful stay at Amigunan in Curaçao!
"Arrive as Guests and leave as Amigunan"
We are local and we work primarily with local individuals and companies. We've dedicated a whole page on local business that we would recommend.
Housekeeping and our pool service are subcontracted to local companies, that employ local employees. Always with a smile and enjoying to work for you at Amigunan.
For washing your clothes, we refer you to a laundry company down the road, where you can have your clothes washed, dried and folded for just a few bucks.
We encourage all initiatives that support our tiny world to become greener.
We drive an EV (electrical vehicle), we do recycling, we heat the shower water with solar panels, we water the plants with deep well water by drip irrigation with water saving timers, and we share our harvested fruits with our personnel…and with you!
Our mascot and most important ambassador to Amigunan is our Bailey. A combination of a pug and something else (some say a beagle, making her a "puggle"). Bailey is always hungry and will make you believe that she has not received any meal for the last two weeks.
You will be staying in a mini resort, that as of its initial beginning in 2014, has been awarded consequently every quarter the Airbnb Superhost Award. Superhosts have a 4.8 or higher average overall rating based on reviews from their Airbnb guests in the past year. Guests know they can expect outstanding hospitality from these hosts.
Super Hosts are experienced, highly rated hosts who are committed to providing extraordinary stays for guests. They also provide a shining example for other hosts. Airbnb checks Super Hosts' activity four times a year, to ensure that the program highlights the people who are most dedicated to providing outstanding hospitality.
So, you are in exceptional hands!
Hilly en Eldon zijn twee heerlijke hosts! Ik verbleef in mijn eentje een maand in een van hun appartementen. Met precies de juiste mate van discretie en aanspraak voor mij.... read more Ze zijn er echt om je te ontzorgen en je verblijf zo aangenaam mogelijk te maken. Daarnaast zijn het ook gewoon heerlijke mensen met een ontzettend schattig hondje.
Ik zat in het appartement MeiMei, met twee slaapkamers. De airconditioning heeft een turbo stand (heerlijk) en het buitendek heeft een plafond ventilator. De WiFi is stabiel en sterk en het zwembad is FANTASTISCH!
Het is een kwartier rijden naar Jan Thiel en 10 minuutjes naar Mambo.

Pascalle


10/31/2021

Kelly


3/18/2023

Een heerlijk appartement midden in mini jungle bij Eldon zijn huis. Locatie top, fijn dichtbij voorzieningen en centraal gelegen op het eiland. Heerlijk zwembad en eigen keukentje om zo ook... read more van een (mid)dag thuis te genieten. Ook voor de kleine genoeg vertier.

Bregje


1/28/2022

Superhost